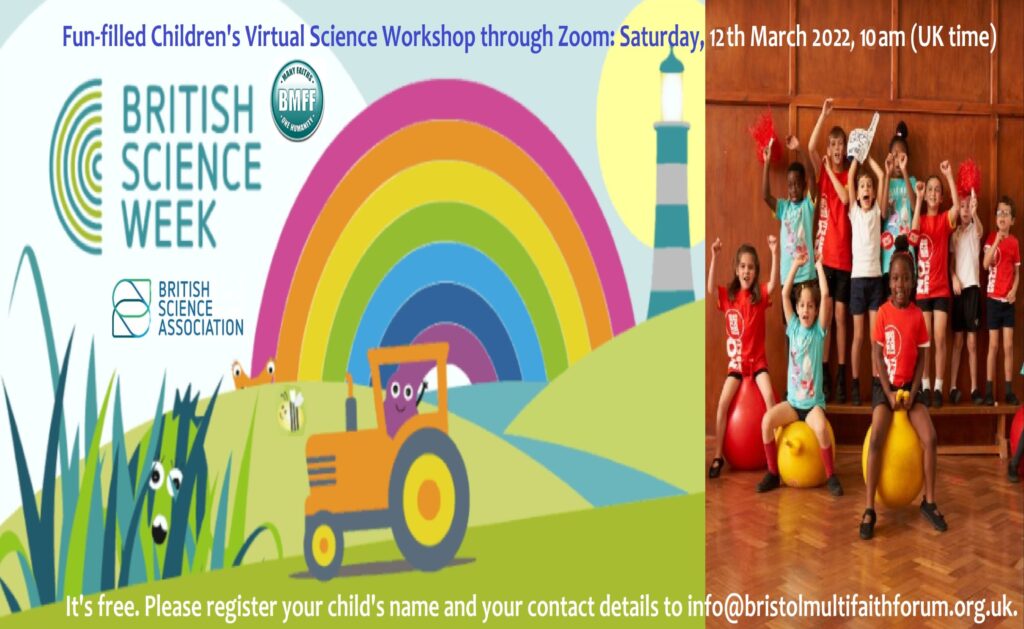 Bristol Multi-Faith Forum in association with the British Science Association is organising a Fun-Filled Virtual Science Workshop for school students on Saturday, 12th of March 2022 from 10.15 am to 11.30 am GMT.
The popular 'Fun Science team' will be delivering this interactive virtual workshop through Zoom virtual platform, to celebrate British Science Week. Fun Science team specialises in providing science-themed parties and workshops to children across the UK.
This virtual science workshop will be an informative and entertaining experience for kids. Registration and participation in this virtual science workshop are free for all children.
To register, just email info@bristolmultifaithforum.org.uk with your child's name, school year, and your contact details, and also subject reference: Virtual Science Workshop (Information will be stored confidentially). Certificates of participation will be given later to all children who register and attend the workshop.
Here is the list of items participants shall have to make the virtual workshop more interactive and fun-filled:
A few leaves of red cabbage,
Cup of warm water x 2 Spoons,
at least 2 tablespoons of vinegar or lemon juice or apple juice,
at least 2 tablespoons of any alkaline (e.g. baking powder, bicarbonate of soda),
At least 2 tablespoons of oil,
Empty glass x 2,
Piece of scrap paper,
Scissors,
Paperclip x 3,
Plastic bottle,
Balloon,
A straw,
Sticky tape,
A piece of string (roughly 20 cm).
If you are using a mobile device to join this virtual Science Workshop, you will need to have downloaded the Zoom app from your usual app store.
Please join the virtual science workshop by 10.15 am. In case you have any technical difficulties, please email us.
Please enable your web-camera and microphone before the workshop begins.
Please enter the name of the participant and if there are more than one child, put names of those children.
Please click this link to take you to your virtual science workshop:
https://us02web.zoom.us/j/81941212567?pwd=dEFwUHJiWjd5RExHNkxJcEl4NHlGZz09
Fun Science's Zoom Meeting
Time: Mar 12, 2022 10:15 AM London
Zoom Meeting ID: 819 4121 2567
Passcode: G4Atw8
When you join the virtual workshop, you can use the chat function of the Zoom application to let the trainer know that you have joined. In the initial few minutes, please bear with us – the trainer may be assisting other participants who are experiencing technical difficulties. Please be assured that the trainer will be with you as soon as possible.
During the workshop:
Please ensure that the participant can be seen clearly on screen. Please don't switch off your webcam.
Please make sure that there are no noise distractions in the background. If there are any noise distractions, please mute your speaker.
Please follow the trainer's instructions to ensure best results of the workshop. You must give your full attention to the workshop at all times and not be distracted.
Definitely, it's fun and it's science. Let's enjoy. Let's make the best use of this exciting opportunity.
With warm regards,
Cllr Tom Aditya, Chairman
Adv. Tripti Megeri, Secretary
Bristol Multi-Faith Forum
Email: info@bristolmultifaithforum.org.uk
NB: We may take a screenshot of the participants as a group (not individually) for our record to motivate others to join future science workshops. If you have any objections to your screenshot, please inform us.