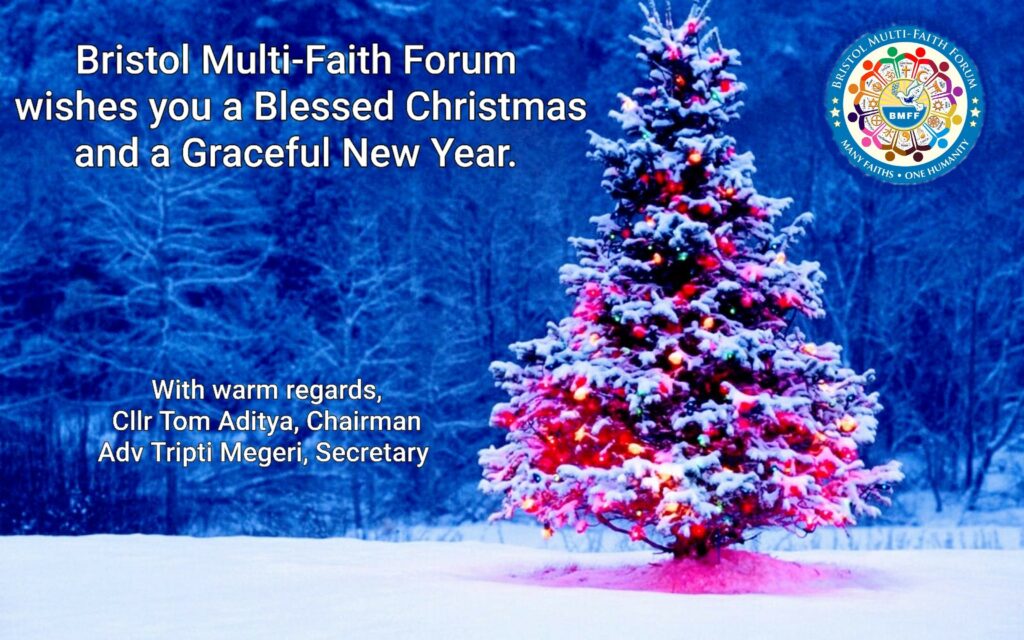 Dear friends and colleagues,

Bristol Multi-Faith Forum wishes you and all dear ones a joyful, healthy, and Blessed Christmas and a Happy New Year. Christmas is a time of reflection and care. It is the time to look back on the year that has passed and prepare for the year ahead and to spread the tidings of great love and fellowship.

Christmas symbolizes simplicity and benevolence. It gives the message to be with the marginalized, the homeless, the poor, and the voiceless. Let us help and keep in our thoughts all those who are not able to celebrate Christmas as well. May this joyous season be a blessing to you and the community.

With the year 2022 drawing to a close, Bristol Multi-Faith Forum (BMFF) would like to take this opportunity to convey seasonal greetings to all our members, partners, stakeholders, subscribers, and well-wishers.

After the difficult Covid period, the year 2022 has been optimistic and fruitful. Bristol Multi-Faith Forum partnered with British Science Association and celebrated British Science week in March. On the occasion of British Science Week, we organised a virtual Science workshop for youngsters. The workshop was inaugurated by the Avon and Somerset Police Commissioner Mark Shelford. The workshop was fun-filled and interactive. Participants were thrilled to be part of it.

After two years of a break due to the pandemic, BMFF was able to physically host our popular annual event Diverse Doors Open Day in May. Diverse Doors Open Day provided an opportunity to celebrate our religious diversity and showcase the multifaith flavour of Bristol.

The theme of this year's Diverse Doors Open Day was 'Spirituality and Mental well-being'. BMFF collaborated with the Avon and Wiltshire Mental Health Partnership NHS Trust (AWP). A 'Multi-Faith Trail' has been organised to 8 core venues, which included a Buddhist Shrine, a Mosque, a Greek Orthodox Church, an Evangelical Church, a Sikh Gurudwara, a Jewish Synagogue, a Hindu Temple, and a Bahai centre. Her Majesty Lord-Lieutenant, Bristol Lord Mayor, Bristol City Council Cabinet members, other dignitaries, and many community members participated in the faith trial.

BMFF also participated in the 'Spring Clean' event and Her Majesty Queen Elizabeth's platinum jubilee celebration. BMFF also focused on world peace and efforts to support the distressed people affected by the war have been made and participated in the Ukrainian migrants' welcome events and the Hong Kong migrants' welcome events.

BMFF Chairman Cllr Tom Aditya proposed an idea this year, to celebrate India-Pakistan Harmony Day in Bristol on the occasion of the 75th Independence Day celebrations of India and Pakistan, in order to bring more cohesion amongst those communities. A Harmony Buffet Dinner was organized at Zaza Bazar restaurant on the 14th of August. It was the first time such a friendship gathering has happened in the UK. It was a very joyous event attended by Her Majesty's Lord Lieutenant, the Bristol Lord Mayor, the High Sheriff, the Police Deputy Commissioner, the Chair of South Glos Council, and many other dignitaries, civic officials, and community leaders. The event was well appreciated by various communities. Participants and community leaders requested to organise such events every year.

BMFF joined the Remembrance Day service organised at Castle Park by Sikh Community leaders. BMFF Chair and Steering Group members also attended different Remembrance services at different venues and paid tribute to the brave soldiers. BMFF participated in the Raja Ram Mohan Roy's Day event organised by Arnos Vale Cemetery and offered tributes. During Inter-Faith week, BMFF joined hands with the Punjabi Forum and celebrated the festival of lights 'Diwali'. Diwali is one of the major festivals celebrated across the globe by Hindu, Sikh, and Jain communities.

BMMF is actively promoting the message of blood and organ donation amongst various communities with the support of the NHS BT. BMFF work along with the Police to promote diverse recruitment campaigns. BMFF also upholds the principles of equality, fraternity, and justice for all, and works for the community's well-being and social harmony.

We would like to thank everyone for joining us on our journey this year. Wish you all a safe, happy, and restful festive season.

Soliciting your continued support,
Bristol Multi-Faith Forum