Welcome to the Bristol Multi-Faith Forum website.
We welcome you cordially to the Bristol Multi-Faith Forum website.
Bristol Multi-Faith Forum (BMFF) was instituted by the Bristol City Council in 2004, following consultation with the city's faith communities and community sector. BMFF acts as an agency for inter-faith and intercultural community cohesion and social harmony. We encourage all religious communities and denominations to stand together in fraternity and fellowship for peace and justice.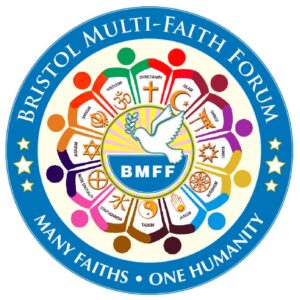 The Multi-Faith Forum aims to provide opportunities for communication and relationship building between people of different faiths and enable people of diverse communities and traditions to engage together in the direction and development of the city.  In recent years, the Multi-Faith Forum has started to spread its wings to encourage involvement from many different faiths, partnership working with faith and statutory organizations, and a wider range of opportunities to engage in the building of a strong, diverse community. We talk to one another and together talk with the wider community of Bristol.
BMFF organize the 'Diverse Doors Open Day', which is an annual event that offers the people the opportunity to visit a wide range of places of worship and learn about the many faith communities in Bristol. We also play a collaborative role in organizing the Bristol Lord Mayor's Inter-Faith Civic Celebration conducted on an annual basis. We also arrange 'Faith Trails' that enables people to connect with various places of worship.
BMFF also actively promotes the health and well being of the faith communities. We act as the lead partner for NHS BT's Blood and Organ Donation campaign in the West of England region as well as an agency to promote health walks, to reduce social isolation and loneliness, to create awareness of dementia, to support counselling services for bereaved families, to eradicate hate-crime and to enhance ecological preservation amongst various communities in Bristol.
It is in building understanding, friendship, and cooperation that people of different faiths come to recognize that, while there are differences, we hold a lot of values and hopes in common as well as a conviction that life is a sacred gift. We believe that the careful building of a good relationship, which the Forum exists to pursue adds to a more peaceful and robust society.
Instituted and funded by the Bristol City Council under its Equalities agenda, Bristol Multi-Faith Forum is also part of the UK Inter-Faith Network.
Bristol Multi-Faith Forum Membership
Anyone who lives, works, or worships in Bristol and who supports our values and aims is welcome to become a member. The Forum has an open membership and all are welcome meetings and events. Please get in touch if you'd like to be part of the Multi-Faith Forum's ongoing work and conversations. See details of how to contact us here.  If you like to become a member of the Bristol Multi-Faith Forum or subscribe to our newsletters, please click on the Mailchimp link below and enter your name, email address, and please submit it.
If you would like to be added to our mailing list and receive our monthly e-bulletin, please sign up here.
https://mailchi.mp/9328ebde9a83/bmff_membership
Our latest annual report can be seen here
Our Winter 2018/19 News Magazine, published in January 2019 gives an idea of the work we have been involved with over recent months. Read it here.
We hope that in reading this, you got a glimpse of the vibrant picture of cooperation and respectful community building that the Forum exists to encourage within the city of Bristol and the West of England region. We are actively looking to recruit more Board Members to our Steering Group. If you would like to put yourself forward for election, please contact us. To know more about the desirable skills and experiences and understanding pertaining to Board Members, please click here. We'd love to hear from you! For more information or an informal chat, please contact at info@bristolmultifaithforum.org.uk 
BMFF Steering Group members:
Cllr Tom Aditya – Chair
Cllr James Hackett – Treasurer
Mrs Tripti Megeri – Secretary
Mr George Mazidian
Mrs Marie Hackett
Mrs Parmjit Kaur
Mr Derek Brown