The Bristol Multi-Faith Forum (BMFF) in partnership with the Pakistan Association of Bristol (PAB) and the Indian Community of West of England (ICWE), is arranging a community harmony Sunday special buffet lunch and a friendship gathering at Bristol ZaZa Bazaar Restaurant, Canon's Road, Bristol (BS1 5UH) on Sunday, 6th of August 2023 at 11 am as part of the community cohesion campaign amongst the South Asian communities in West of England and to jointly celebrate the Independence Day festivities of India and Pakistan.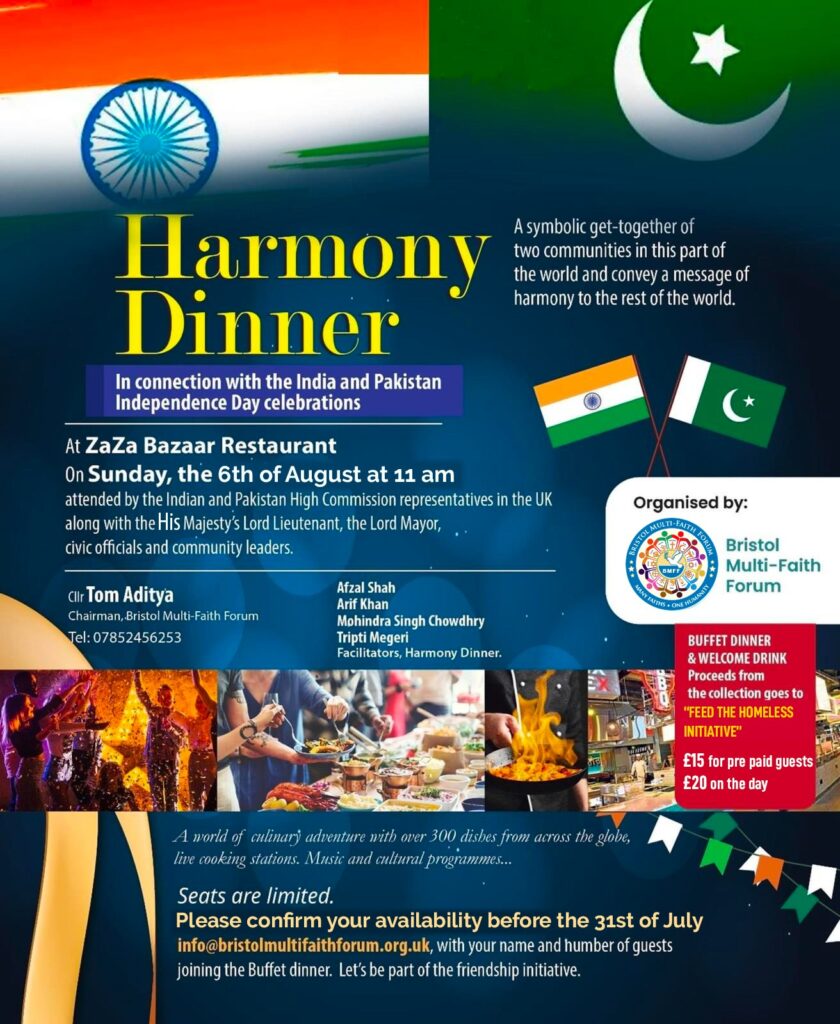 August 14 marks Pakistan Independence Day and August 15 is Indian Independence Day. Due to the trauma of partition and communal conflicts as well as the history of wars between both countries, there are tensions and misunderstandings between both communities worldwide. We need to alleviate such animosities and divisions amongst both communities at the grassroots level in the West of England region. Bristol Multi-Faith Forum (BMFF) is an equality organisation instituted by the Bristol City Council in 2004 for inter-faith community cohesion and inter-cultural social harmony and to promote community well-being. BMFF is providing a platform for both communities in the West of England region to come together and have an India-Pakistan Friendship Meal, which will be attended by Her Majesty's Lord Lieutenant, the High Sheriff, the Lord Mayor, the Police and Crime Commissioner, MPs, previous Lord Mayors, Aldermen, councillors, civic officials and community leaders, as well as representatives from the Indian and Pakistan High Commissions in the UK.
Zaza Bazaar Restaurant, Canon's Road, Bristol (BS1 5UH) is an exciting 1000-seat restaurant that offers a world of culinary adventure with over 300 dishes across the globe and a wide variety of delicacies from different cuisines, especially from South Asian, Far East, Caribbean, Tex Mex, American and European food habits. In this global restaurant, you can choose from as many dishes and sweet treat desserts as you can enjoy, across 5 continents of flavours. On Sundays, they have a special extra medley of a lot of exclusive ethnic dishes including Biriyani, Dosa, Uttapams, Cholle Poori, kadhi chawal, Keema, rasam, all-day English breakfast and Sunday carvery. Also, the specialist chefs will cook the dishes of your liking at the live cooking stations too. There will be music and cultural programmes to enhance the harmonious spirit of the gathering. The dinner programme will start at 11 am and the cultural activities will finish by 3 pm.
We cordially invite all people of goodwill to join the "Harmony Buffet Lunch" on Sunday, the 6th of August, and to herald the message of peace and harmony amongst communities. This friendship dinner initiative has been arranged on short notice, yet we are thankful to all the dignitaries, civic officials, and community leaders for their confirmation of attendance. Please send your names via email to info@bristolmultifaithforum.org.uk, and book your seats by the 31st of July. We are offering this special Sunday Buffet lunch and Independence Day festivities at a discounted rate of £15 for our prepaid guests. Children under 11 years of age and students with NUS cards shall pay only £10 per head, whereas it will be free for children under 5 years of age. If you are interested in joining the harmony buffet and friendship gathering, yet unable to pay even the discounted rate, please email us your name for a free ticket before the 3rd of August, and we will issue free tickets to you. Right of admission is reserved. Limited seats are available, so grab the opportunity to book the seats as soon as possible.
We thank all people of goodwill for joining this friendship initiative and buffet lunch. Our acknowledgement and gratitude to all. Let's all be part of the message of harmony and friendship.
With warm regards,
Cllr Tom Aditya
Chairman, Bristol Multi-Faith Forum.
Tel: 07852456253
Afzal Shah, Mohindra Singh Chowdhry, Mohammed Arif Khan and Tripti Megeri
Facilitators- Harmony Dinner.
Bristol Multi-Faith Forum, 43 Ducie Road, Barton Hill, Bristol, BS5 0AX
Email: info@bristolmultifaithforum.org.uk
www.bristolmultifaithforum.org.uk
**************************
The Snaps from the gathering are enclosed in the link below: India Pakistan Friendship Gathering 2023 and Harmony Buffet FB Album: https://www.facebook.com/media/set/?set=a.684292460391543&type=3